When you find yourself in the bottom of a pit, as I have this past week, you only have two choices. You can get comfortable there and just stew in the "muck", or you can look up and start climbing! As for me, I've spent enough time in my life "mucking around" in the bottom of these pits. I know that the longer I allow myself to stay there, the more it begins to feel comfortable and the harder it is to see that there is any way out! So, today, I choose to look up! "I lift up my eyes to the mountains - where does my help come from? My help comes from the Lord, the Maker of heaven and earth." (Psalm 121:1-2)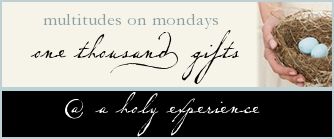 Author and speaker,

Ann Voskamp

, has learned the value of recognizing all of the "little" gifts that God gives us in our ordinary, everyday lives and being thankful. I'm reading her book:

One Thousand Gifts: A Dare to Live Fully Right Where You Are

. Sometimes, especially when we're in the pit, we are so busy looking at all that is wrong ... lacking ... failing, that we forget to look at what is right and good. "Finally, brothers and sisters, whatever is true, whatever is noble, whatever is right, whatever is pure, whatever is lovely, whatever is admirable - if anything is excellent or praiseworthy - think about such things." (Philippians 4:8) I've started my own list of "One Thousand Gifts". It didn't grow much in the past week, but I added a few today, among them:
Seeing "the Sparkle" on my bed. (Someday, I'll tell you about the special meaning of "the Sparkle")

Autumn's cool breezes

The color yellow

Christian music and radio

Praying friends
I am so thankful today for all of the gifts God has given me!
Oh, and by the way, if you'd like to hear this amazing woman live in an on-line webcast -

'Say Yes to God'

- tomorrow evening (7 PM EST, or 8PM CST), along with another amazing woman, Lysa Terkeurst of

Proverbs 31 Ministries

, go

here

to read about it and I'll meet you there, too!
Have a blessed Labor Day!